It's a difficult time for authors and booksellers around the world due to the coronavirus pandemic. Book tours are being cancelled and bookstores are closing their doors to ensure social distancing. Many authors, especially debut authors, rely on signings and speaking engagements to promote their books, so the situation is particularly disheartening to authors whose books are releasing this spring.
Good news is that there are still plenty of ways to support authors during quarantine. While bookstores may not be open for public browsing, many are still fulfilling online orders, digital purchases, and pre-orders. Here are some March and April 2020 books by authors of Asian descent you can order from your local bookstore now.
---
Picture Books
Almond by Allen Say (March 3)
Everything changes for Almond Biggs when a new girl comes to school. The New Girl can play "The Flight of the Bumblebee" fast fast fast on her violin. And every day Almond sits and listens. Lost in the music, Almond wonders if she has her own unique gift. One special day, as Almond is watching the crows, circling and twirling in the wind, she realizes that she too can spread her wings and discovers the magic to being happy inside and out. (Scholastic Press)
Child of the Universe by Ray Jayawardhana, illustrated by Raúl Colón (March 17)
Just like the sun gives shine to the moon,
you light up the world beyond this room . . .
You are grand and marvelous, strong and mysterious.
The history of the world is in your fingertips.

A meditation on the preciousness of one child and the vastness of the universe, this picture book shares the measure of a parent's love along with the message that we are all connected to the broader cosmos. (Make Me a World)
How to Solve a Problem: The Rise (and Falls) of a Rock-Climbing Champion by Ashima Shiraishi, illustrated by Yao Xiao (April 7)
To a rock climber, a boulder is called a "problem," and you solve it by climbing to the top. There are twists and turns, falls and scrapes, and obstacles that seem insurmountable until you learn to see the possibilities within them. And then there is the moment of triumph, when there's nothing above you but sky and nothing below but a goal achieved.

Ashima Shiraishi draws on her experience as a world-class climber in this story that challenges readers to tackle the problems in their own lives and rise to greater heights than they would have ever thought possible. (Make Me a World)
123s of Art by Sabrina Hahn (April 21)
Spark your child's creativity and curiosity with this delightfully curated counting book featuring some of the world's most iconic paintings.

In this collection, your child will discover artwork by Gustav Klimt, Claude Monet, Vincent van Gogh, Maria Sibylla Merian, and many others. Help them count the flower petals in Gauguin's Still Life with Teapot and Fruit, teach them different colors while examining Redon's Butterflies, and discuss the shapes used in Sarah Ann Wilson's Album Quilt.

With a fun rhyming scheme and large, colorful text, 123s of Art will inspire your budding art lovers as they learn to count to 20 by locating objects in paintings. (Sky Pony)
Middle Grade
The Dragon Egg Princess by Ellen Oh (March 3)
In a kingdom filled with magic, Jiho Park and his family are an anomaly—magic doesn't affect them.

Jiho comes from a long line of forest rangers who protect the Kidahara—an ancient and mysterious wood that is home to powerful supernatural creatures. But Jiho wants nothing to do with the dangerous forest.

Five years ago, his father walked into the Kidahara and disappeared. Just like the young Princess Koko, the only daughter of the kingdom's royal family. Jiho knows better than anyone else the horrors that live deep in the magical forest and how those who go in never come back.

Now the forest is in danger from foreign forces that want to destroy it, and a long-forgotten evil that's been lurking deep in the Kidahara for centuries finally begins to awaken. Can a magic-less boy, a fierce bandit leader, and a lost princess join forces and save their worlds before it's too late? (HarperCollins)
Prairie Lotus by Linda Sue Park (March 3)
Prairie Lotus is a book about a girl determined to fit in and realize her dreams: getting an education, becoming a dressmaker in her father's shop, and making at least one friend. Hanna, a [mixed-race] Asian girl in a small town in America's heartland, lives in 1880. Hanna's adjustment to her new surroundings, and the townspeople's prejudice against Asians, is at the heart of the story.  (Clarion Books)
The Chaos Curse (Kiranmala and the Kingdom Beyond #3) by Sayantani DasGupta (March 3)
Kiranmala must leave the Kingdom Beyond and travel to her hometown of Parsippany to save Prince Lal, who has been spirited to the unlikeliest of places — a tree in the yard of her best-enemy-for-life. She also faces evil serpents (of course!), plus a frightening prophecy about her role in the coming conflict between good and evil. Most troubling of all, though, is the way reality all around her seems to waver and flicker at odd moments. Could it be that the Anti-Chaos Committee's efforts are causing a dangerous disruption in the multiverse?

Kiran must grapple with the increasingly tangled threads that threaten to ensnare her…and everyone in the world and the Kingdom Beyond. (Scholastic Press)
Stand Up, Yumi Chung! by Jessica Kim (March 17)
On the outside, Yumi Chung suffers from #shygirlproblems, a perm-gone-wrong, and kids calling her "Yu-MEAT" because she smells like her family's Korean barbecue restaurant. On the inside, Yumi is ready for her Netflix stand-up special. Her notebook is filled with mortifying memories that she's reworked into comedy gold. All she needs is a stage and courage.

Instead of spending the summer studying her favorite YouTube comedians, Yumi is enrolled in test-prep tutoring to qualify for a private school scholarship, which will help in a time of hardship at the restaurant. One day after class, Yumi stumbles on an opportunity that will change her life: a comedy camp for kids taught by one of her favorite YouTube stars. The only problem is that the instructor and all the students think she's a girl named Kay Nakamura–and Yumi doesn't correct them.

As this case of mistaken identity unravels, Yumi must decide to stand up and reveal the truth or risk losing her dreams and disappointing everyone she cares about. (Kokila)
Dragon Hoops by Gene Luen Yang (March 17)
Gene understands stories—comic book stories, in particular. Big action. Bigger thrills. And the hero always wins.

But Gene doesn't get sports. As a kid, his friends called him "Stick" and every basketball game he played ended in pain. He lost interest in basketball long ago, but at the high school where he now teaches, it's all anyone can talk about. The men's varsity team, the Dragons, is having a phenomenal season that's been decades in the making. Each victory brings them closer to their ultimate goal: the California State Championships.

Once Gene gets to know these young all-stars, he realizes that their story is just as thrilling as anything he's seen on a comic book page. He knows he has to follow this epic to its end. What he doesn't know yet is that this season is not only going to change the Dragons's lives, but his own life as well. (First Second)
A Wish in the Dark by Christina Soontornvat (March 24)
All light in Chattana is created by one man — the Governor, who appeared after the Great Fire to bring peace and order to the city. For Pong, who was born in Namwon Prison, the magical lights represent freedom, and he dreams of the day he will be able to walk among them. But when Pong escapes from prison, he realizes that the world outside is no fairer than the one behind bars. The wealthy dine and dance under bright orb light, while the poor toil away in darkness. Worst of all, Pong's prison tattoo marks him as a fugitive who can never be truly free.

Nok, the prison warden's perfect daughter, is bent on tracking Pong down and restoring her family's good name. But as Nok hunts Pong through the alleys and canals of Chattana, she uncovers secrets that make her question the truths she has always held dear. Set in a Thai-inspired fantasy world, Christina Soontornvat's twist on Victor Hugo's Les Misérables is a dazzling, fast-paced adventure that explores the difference between law and justice — and asks whether one child can shine a light in the dark. (Candlewick Press)
Aru Shah and the Tree of Wishes by Roshani Chokshi (April 7)
War between the devas and the demons is imminent, and the Otherworld is on high alert. When intelligence from the human world reveals that the Sleeper is holding a powerful clairvoyant and her sister captive, 14-year-old Aru and her friends launch a search-and-rescue mission. The captives, a pair of twins, turn out to be the newest Pandava sisters, though, according to a prophecy, one sister is not true.

During the celebration of Holi, the heavenly attendants stage a massage PR rebranding campaign to convince everyone that the Pandavas are to be trusted. As much as Aru relishes the attention, she fears that she is destined to bring destruction to her sisters, as the Sleeper has predicted. Aru believes that the only way to prove her reputation is to find the Kalpavriksha, the wish-granting tree that came out of the Ocean of Milk when it was churned. If she can reach it before the Sleeper, perhaps she can turn everything around with one wish. (Rick Riordan Presents)
YA
Wicked As You Wish by Rin Chupeco (March 3)
Many years ago, the magical Kingdom of Avalon was left desolate and encased in ice when the evil Snow Queen waged war on the powerful country. Its former citizens are now refugees in a world mostly devoid of magic. Which is why the crown prince and his protectors are stuck in…Arizona.

Prince Alexei, the sole survivor of the Avalon royal family, is in hiding in a town so boring, magic doesn't even work there. Few know his secret identity, but his friend Tala is one of them. Tala doesn't mind—she has secrets of her own. Namely, that she's a spellbreaker, someone who negates magic.

Then hope for their abandoned homeland reignites when a famous creature of legend, and Avalon's most powerful weapon, the Firebird, appears for the first time in decades. Alex and Tala unite with a ragtag group of new friends to journey back to Avalon for a showdown that will change the world as they know it. (Sourcebooks Fire)
Anna K by Jenny Lee (March 3)
Meet Anna K. At seventeen, she is at the top of Manhattan and Greenwich society (even if she prefers the company of her horses and Newfoundland dogs); she has the perfect (if perfectly boring) boyfriend, Alexander W.; and she has always made her Korean-American father proud (even if he can be a little controlling). Meanwhile, Anna's brother, Steven, and his girlfriend, Lolly, are trying to weather a sexting scandal; Lolly's little sister, Kimmie, is struggling to recalibrate to normal life after an injury derails her ice dancing career; and Steven's best friend, Dustin, is madly (and one-sidedly) in love with Kimmie.

As her friends struggle with the pitfalls of ordinary teenage life, Anna always seems to be able to sail gracefully above it all. That is…until the night she meets Alexia "Count" Vronsky at Grand Central. A notorious playboy who has bounced around boarding schools and who lives for his own pleasure, Alexia is everything Anna is not. But he has never been in love until he meets Anna, and maybe she hasn't, either. As Alexia and Anna are pulled irresistibly together, she has to decide how much of her life she is willing to let go for the chance to be with him. And when a shocking revelation threatens to shatter their relationship, she is forced to question if she has ever known herself at all. (Flatiron Books)
Harley in the Sky by Akemi Dawn Bowman (March 10)
Harley Milano has dreamed of being a trapeze artist for as long as she can remember. With parents who run a famous circus in Las Vegas, she spends almost every night in the big top watching their lead aerialist perform, wishing with all her soul that she could be up there herself one day.

After a huge fight with her parents, who continue to insist she go to school instead, Harley leaves home, betrays her family and joins the rival traveling circus Maison du Mystère. There, she is thrust into a world that is both brutal and beautiful, where she learns the value of hard work, passion and collaboration. But at the same time, Harley must come to terms with the truth of her family and her past—and reckon with the sacrifices she made and the people she hurt in order to follow her dreams. (Ink Road)
We Are Totally Normal by Rahul Kanakia (March 31)
Nandan's got a plan to make his junior year perfect. He's going to make sure all the parties are chill, he's going to smooth things over with his ex, and he's going to help his friend Dave get into the popular crowd—whether Dave wants to or not. The high school social scene might be complicated, but Nandan is sure he's cracked the code.

Then, one night after a party, Dave and Nandan hook up, which was not part of the plan—especially because Nandan has never been into guys. Still, Dave's cool, and Nandan's willing to give it a shot, even if that means everyone starts to see him differently.

But while Dave takes to their new relationship with ease, Nandan's completely out of his depth. And the more his anxiety grows about what his sexuality means for himself, his friends, and his social life, the more he wonders whether he can just take it all back. But is breaking up with the only person who's ever really gotten him worth feeling "normal" again? (Harper Teen)
Night of the Dragon by Julie Kagawa (March 31)
Kitsune shapeshifter Yumeko has given up the final piece of the Scroll of a Thousand Prayers in order to save everyone she loves from imminent death. Now she and her ragtag band of companions must journey to the wild sea cliffs of Iwagoto in a desperate last-chance effort to stop the Master of Demons from calling upon the Great Kami dragon and making the wish that will plunge the empire into destruction and darkness.

Shadow clan assassin Kage Tatsumi has regained control of his body and agreed to a true deal with the devil — the demon inside him, Hakaimono. They will share his body and work with Yumeko and their companions to stop a madman and separate Hakaimono from Tatsumi and the cursed sword that had trapped the demon for nearly a millennium… (Inkyard Press)
Imagine Me (Shatter Me #6) by Tahereh Mafi  (March 31)
Juliette Ferrars.

Ella Sommers.

Which is the truth and which is the lie?

Now that Ella knows who Juliette is and what she was created for, things have only become more complicated. As she struggles to understand the past that haunts her and looks to a future more uncertain than ever, the lines between right and wrong—between Ella and Juliette—blur. And with old enemies looming, her destiny may not be her own to control.

The day of reckoning for the Reestablishment is coming. But she may not get to choose what side she fights on.
So This is Love by Elizabeth Lim (April 7)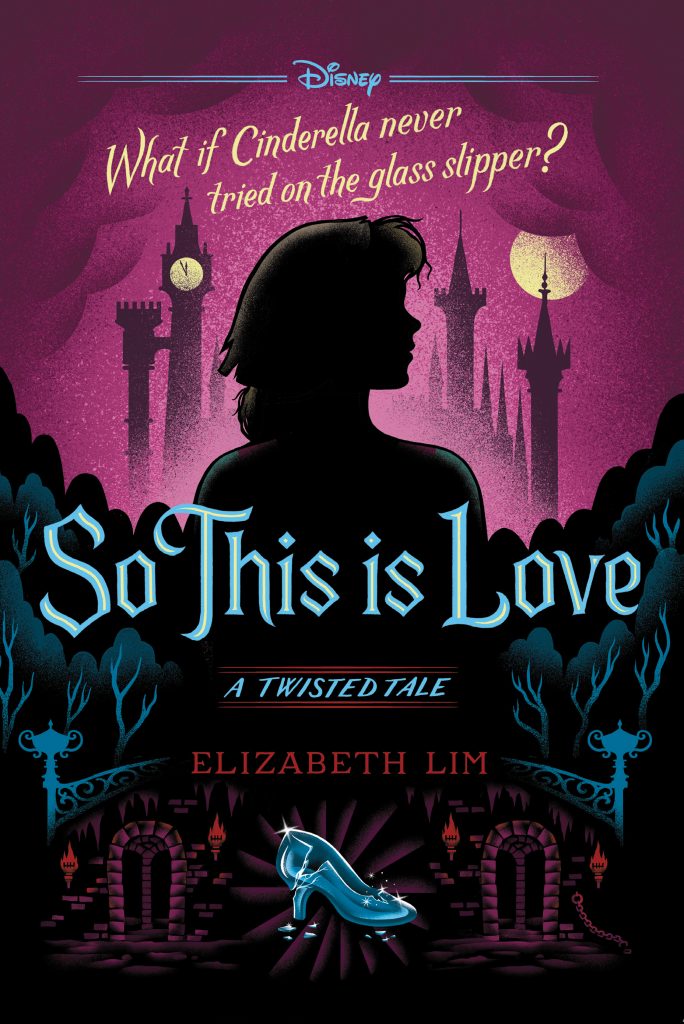 What if Cinderella never tried on the glass slipper? Unable to prove that she's the missing princess, and unable to bear life under Lady Tremaine any longer, Cinderella attempts a fresh start, looking for work at the palace as a seamstress. But when the Grand Duke appoints her to serve under the king's visiting sister, Cinderella becomes witness to a grand conspiracy to take the king-and the prince-out of power, as well as a longstanding prejudice against fairies, including Cinderella's own Fairy Godmother. Faced with questions of love and loyalty to the kingdom, Cinderella must find a way to stop the villains of past and present . . . before it's too late. (Disney-Hyperion)
Mad, Bad & Dangerous by Samira Ahmed (April 7)
It's August in Paris and 17-year-old Khayyam Maquet—American, French, Indian, Muslim—is at a crossroads. This holiday with her professor parents should be a dream trip for the budding art historian. But her maybe-ex-boyfriend is probably ghosting her, she might have just blown her chance at getting into her dream college, and now all she really wants is to be back home in Chicago figuring out her messy life instead of brooding in the City of Light.

Two hundred years before Khayyam's summer of discontent, Leila is struggling to survive and keep her true love hidden from the Pasha who has "gifted" her with favored status in his harem. In the present day—and with the company of a descendant of Alexandre Dumas—Khayyam begins to connect allusions to an enigmatic 19th-century Muslim woman whose path may have intersected with Alexandre Dumas, Eugène Delacroix, and Lord Byron. (Soho Teen)
This Is My In by I.W. Gregorio (April 14)
Jocelyn Wu has just three wishes for her junior year: To make it through without dying of boredom, to direct a short film with her BFF Priya Venkatram, and to get at least two months into the year without being compared to or confused with Peggy Chang, the only other Chinese girl in her grade.

Will Domenici has two goals: to find a paying summer internship, and to prove he has what it takes to become an editor on his school paper.

Then Jocelyn's father tells her their family restaurant may be going under, and all wishes are off. Because her dad has the marketing skills of a dumpling, it's up to Jocelyn and her unlikely new employee, Will, to bring A-Plus Chinese Garden into the 21st century (or, at least, to Facebook).What starts off as a rocky partnership soon grows into something more. But family prejudices and the uncertain future of A-Plus threaten to keep Will and Jocelyn apart. It will take everything they have and more, to save the family restaurant and their budding romance. (Little, Brown Books for Young Readers)
Adult
The Rumi Prescription: How an Ancient Mystic Poet Changed My Modern Manic Life by Melody Moezzi (March 3)
Rumi's inspiring and deceptively simple poems have been called ecstatic, mystical, and devotional. To writer and activist Melody Moezzi, they became a lifeline. In The Rumi Prescription, we follow her path of discovery as she translates Rumi's works for herself – to gain wisdom and insight in the face of a creative and spiritual roadblock. With the help of her father, who is a lifelong fan of Rumi's poetry, she immerses herself in this rich body of work, and discovers a 13th-century prescription for modern life.

Addressing isolation, distraction, depression, fear, and other everyday challenges we face, the book offers a roadmap for living with intention and ease, and embracing love at every turn–despite our deeply divided and chaotic times. Most of all, it presents a vivid reminder that we already have the answers we seek, if we can just slow down to honor them. (Tarcherperigee)
Mimi Lee Gets a Clue by Jennifer J. Chow (March 10)
Mimi Lee hoped to give Los Angeles animal lovers something to talk about with her pet grooming shop, Hollywoof. She never imagined that the first cat she said hello to would talk back or be quite so, well, catty—especially about those disastrous dates Mimi's mother keeps setting up.

When Marshmallow exposes local breeder Russ Nolan for mistreating Chihuahuas, Mimi steals some of her cat's attitude to tell Russ off. The next day the police show up at Hollywoof. Russ has been found dead, and Mimi's shouting match with him has secured her top billing as the main suspect.

Hoping to clear her name and save the pups Russ left behind, Mimi enlists help from her dreamy lawyer neighbor Josh. But even with Josh on board, it'll take Mimi and Marshmallow a lot of sleuthing and more than a little sass to get back to the pet-grooming life—and off the murder scene. (Berkley)
The Perfect World of Miwako Sumida by Clarissa Goenawan (March 10)
University sophomore Miwako Sumida has hanged herself, leaving those closest to her reeling. In the months before her suicide, she was hiding away in a remote mountainside village, but what, or whom, was she running from?

To Ryusei, a fellow student at Waseda; Chie, Miwako's best friend; and Fumi, Ryusei's older sister, Miwako was more than the blunt, no-nonsense person she projected to the world. Heartbroken, Ryusei begs Chie to take him to the village where Miwako spent her final days. While he is away, Fumi receives an unexpected guest at their shared apartment in Tokyo, distracting her from her fear that Miwako's death may ruin what is left of her brother's life. (Soho Press)
New Waves by Kevin Nguyen (March 10)
Lucas and Margo are fed up. Margo is a brilliant programmer tired of being talked over as the company's sole black employee, and while Lucas is one of many Asians at the firm, he's nearly invisible as a low-paid customer service rep. Together, they decide to steal their tech start-up's user database in an attempt at revenge. The heist takes a sudden turn when Margo dies in a car accident, and Lucas is left reeling, wondering what to do with their secret–and wondering whether her death really was an accident. When Lucas hacks into Margo's computer looking for answers, he is drawn into her secret online life and realizes just how little he knew about his best friend. (Spiegel & Grau)
Deceit and Other Possibilities: Stories by Vanessa Hua (March 10)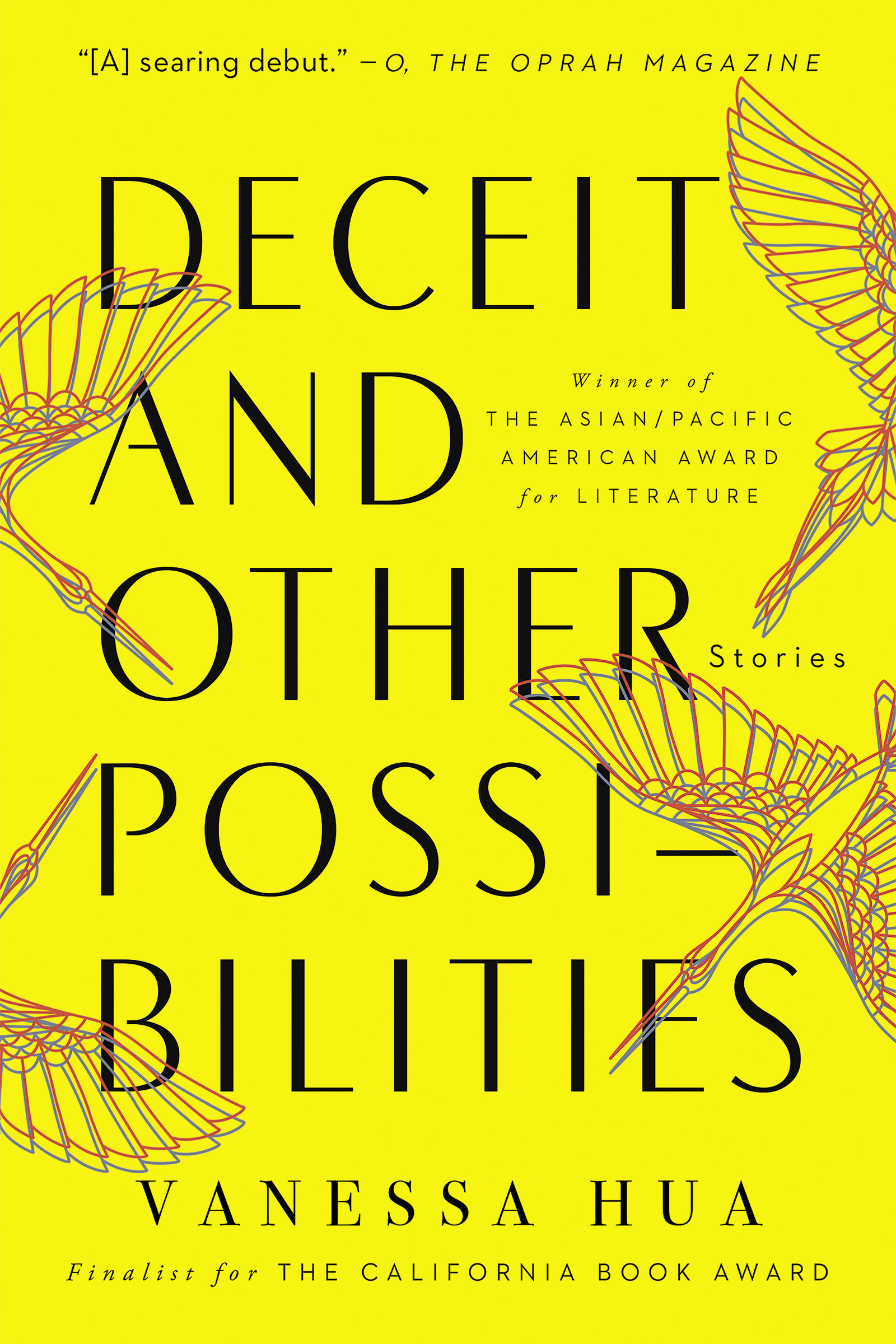 In this powerful debut collection, Vanessa Hua gives voice to immigrant families navigating a new America. Tied to their ancestral and adopted homelands in ways unimaginable in generations past, these memorable characters straddle both worlds but belong to none. (Counterpoint)
The Eighth Girl by Maxine Mei-Fung Chung (March 17)
Beautiful. Damaged. Destructive. Meet Alexa Wú, a brilliant yet darkly self-aware young woman whose chaotic life is manipulated and controlled by a series of alternate personalities. Only three people know about their existence: her shrink Daniel; her stepmother Anna; and her enigmatic best friend Ella. The perfect trio of trust.

When Ella gets a job at a high-end gentleman's club, she catches the attention of its shark-like owner and is gradually drawn into his inner circle. As Alexa's world becomes intimately entangled with Ella's, she soon finds herself the unwitting keeper of a nightmarish secret. With no one to turn to and lives at stake, she follows Ella into London's cruel underbelly on a daring rescue mission. Threatened and vulnerable, Alexa will discover whether her multiple personalities are her greatest asset, or her most dangerous obstacle. (William Morrow)
The Mountains Sing by Nguyễn Phan Quế Mai (March 17)
With the epic sweep of Min Jin Lee's Pachinko or Yaa Gyasi's Homegoing and the lyrical beauty of Vaddey Ratner's In the Shadow of the Banyan, The Mountains Sing tells an enveloping, multigenerational tale of the Trần family, set against the backdrop of the Việt Nam War. Trần Diệu Lan, who was born in 1920, was forced to flee her family farm with her six children during the Land Reform as the Communist government rose in the North. Years later in Hà Nội, her young granddaughter, Hương, comes of age as her parents and uncles head off down the Hồ Chí Minh Trail to fight in a conflict that tore not just her beloved country, but her family apart. (Algonquin Books)
Offerings by Michael ByungJu Kim (March 24)
Raised in the US and Harvard Business School–educated, Dae Joon is a jangnam, a firstborn son, bound by tradition to follow in the footsteps of his forebears. But rather than pursue the path his scholar-father wanted, he has sought a career on Wall Street, at the epicenter of power in the American empire. Now, as he and his fellow bankers work feverishly with Korean officials to execute a sovereign bond offering to raise badly needed capital, he knows that his own father is living on borrowed time, in the last stages of a disease that is the family curse. A young woman he has met is quietly showing the way to a different future. And when his closest friend from business school, a scion of one of Korea's biggest chaebol, asks his help in a sale that may save the conglomerate but also salvage a legacy of corruption, he finds himself in personal crisis, torn by dueling loyalties, his identity tested. (Arcade)
Days of Distraction by Alexandra Chang (March 31)
The plan is to leave. As for how, when, to where, and even why—she doesn't know yet. So begins a journey for the twenty-four-year-old narrator of Days of Distraction. As a staff writer at a prestigious tech publication, she reports on the achievements of smug Silicon Valley billionaires and start-up bros while her own request for a raise gets bumped from manager to manager. And when her longtime boyfriend, J, decides to move to a quiet upstate New York town for grad school, she sees an excuse to cut and run.

Moving is supposed to be a grand gesture of her commitment to J and a way to reshape her sense of self. But in the process, she finds herself facing misgivings about her role in an interracial relationship. Captivated by the stories of her ancestors and other Asian Americans in history, she must confront a question at the core of her identity: What does it mean to exist in a society that does not notice or understand you? (HarperCollins)
The Beauty of Your Face by Sahar Mustafah (April 7)
Afaf Rahman, the daughter of Palestinian immigrants, is the principal of Nurrideen School for Girls, a Muslim school in the Chicago suburbs. One morning, a shooter—radicalized by the online alt-right—attacks the school.

As Afaf listens to his terrifying progress, we are swept back through her memories: the bigotry she faced as a child, her mother's dreams of returning to Palestine, and the devastating disappearance of her older sister that tore her family apart. Still, there is the sweetness of the music from her father's oud, and the hope and community Afaf finally finds in Islam. (W. W. Norton Company)
The Subtweet by Vivek Shraya (April 7)
Everyone talks about falling in love, but falling in friendship can be just as captivating. When Neela Devaki's song is covered by internet-famous artist Rukmini, the two musicians meet and a transformative friendship begins. But as Rukmini's star rises and Neela's stagnates, jealousy and self-doubt creep in. With a single tweet, their friendship implodes, one career is destroyed, and the two women find themselves at the center of an internet firestorm. (ECW Press)
How Much of These Hills Is Gold by C Pam Zhang (April 7) 
Ba dies in the night; Ma is already gone. Newly orphaned children of immigrants, Lucy and Sam are suddenly alone in a land that refutes their existence. Fleeing the threats of their western mining town, they set off to bury their father in the only way that will set them free from their past. Along the way, they encounter giant buffalo bones, tiger paw prints, and the specters of a ravaged landscape as well as family secrets, sibling rivalry, and glimpses of a different kind of future. (Riverhead Books)
The Perfect Escape by Suzanne Park (April 7)
Nate Jae-Woo Kim wants to be rich. When one of his classmates offers Nate a ridiculous amount of money to commit grade fraud, he knows that taking the windfall would help support his prideful Korean family, but is compromising his integrity worth it?

Luck comes in the form of Kate Anderson, Nate's colleague at the zombie-themed escape room where he works. She approaches Nate with a plan: a local tech company is hosting a weekend-long survivalist competition with a huge cash prize. It could solve all of Nate's problems, and Kate needs the money too.

If the two of them team up, Nate has a true shot at winning the grand prize. But the real challenge? Making through the weekend with his heart intact… (Sourcebooks Fire)
Kim Jiyoung, Born 1982 by Cho Nam-Joo, translated by Jamie Chang (April 14)
In a small, tidy apartment on the outskirts of the frenzied metropolis of Seoul, Kim Jiyoung—a millennial "everywoman"—spends her days caring for her infant daughter. Her husband, however, worries over a strange symptom that has recently appeared: Jiyoung has begun to impersonate the voices of other women—dead and alive, both known and unknown to her. Truly, flawlessly, completely, she became that very person. As she plunges deeper into this psychosis, Jiyoung's concerned husband sends her to a psychiatrist, who listens to her narrate her own life story—from her birth to a family who expected a son, to elementary school teachers who policed girls' outfits, to male coworkers who installed hidden cameras in women's restrooms and posted the photos online. But can her doctor cure her, or even discover what truly ails her? (Liveright)
If I Had Your Face by Frances Cha (April 21)
A riveting debut novel set in contemporary Seoul, Korea, about four young women making their way in a world defined by impossibly high standards of beauty, secret room salons catering to wealthy men, strict social hierarchies, and K-pop fan mania. (Ballantine Books)
Missed Translations: Meeting the Immigrant Parents Who Raised Me by Sopan Deb (April 21)
Growing up Hindu in suburban New Jersey, debut author Deb learned that Indian weddings were multiday events, "a slightly tamer version of Burning Man." When his best friend decided to get married in India, the author decided to make his first visit to the country to which his father had returned after his parents' divorce. Deb hoped to find answers to long-simmering questions: Why was his mother so unhappy? What made his parents' arranged marriage a disaster when an aunt and uncle's had thrived? Why had his father abruptly gone back to India, without explaining why?

Accompanied by his American girlfriend, Deb embarked on a five-city tour that began at his father's flat in a neighborhood he calls "the Brooklyn of Kolkata." Over the next three weeks, as he visited relatives and monuments, skeletons tumbled out of a family closet that the author breezily inventories. He chronicles his years as a "self-loathing Bengali child" in largely white suburbs, his discovery that stand-up comedy could be "cathartic," and his former work as a CBS News reporter covering the Trump campaign. (Kirkus Reviews)
The Silence of Bones by June Hur (April 21)
1800, Joseon (Korea). Homesick and orphaned sixteen-year-old Seol is living out the ancient curse: "May you live in interesting times." Indentured to the police bureau, she's been tasked with assisting a well-respected young inspector with the investigation into the politically charged murder of a noblewoman.

As they delve deeper into the dead woman's secrets, Seol forms an unlikely bond of friendship with the inspector. But her loyalty is tested when he becomes the prime suspect, and Seol may be the only one capable of discovering what truly happened on the night of the murder. But in a land where silence and obedience are valued above all else, curiosity can be deadly. (Feiwel & Friends)
Girl Gone Viral by Alisha Rai (April 21)
In Alisha Rai's second novel in her Modern Love series, a live-tweet event goes viral for a camera-shy ex-model, shoving her into the spotlight—and into the arms of the bodyguard she'd been pining for. (Avon)
Success Is 90% Spite by Jane Zei (April 21)
Based on the popular webcomic The Pigeon Gazette! Follow artist Jane Zei through the everyday rollercoaster of a quarter-life crisis—when high-flying optimism meets cold, hard adulthood during the journey from college to a full-time career.

With favorites from viral webcomic The Pigeon Gazette, along with never-before seen comics, Success is 90% Spite is a reminder that there's nothing you can't achieve through hard work, persistence—and really wanting to prove someone else wrong. (Chronicle Books)
What We Carry: A Memoir by Maya Lang (April 28)
Maya Shanbhag Lang grew up idolizing her brilliant mother, an accomplished physician who immigrated to the United States from India and completed her residency, all while raising her children and keeping a traditional Indian home. She had always been a source of support–until Maya became a mother herself. Then, the parent who had once been so capable and attentive turned unavailable and distant. Struggling to understand this abrupt change while raising her own young child, Maya searches for answers and soon learns that her mother is living with Alzheimer's.

When Maya steps in to care for her, she comes to realize that despite their closeness, she never really knew her mother. Were her cherished stories–about life in India, about what it means to be an immigrant, about motherhood itself–even true? (Dial Press)
We will update the list as we find more titles coming out this month or April. Again, now is a great time to curl up with a book. Hopefully, avid readers out there will check out some of these books.
Updated April 7th